The Department of Medical Oncology of Guangzhou Concord Cancer Center is built with the support of MD Anderson Cancer Center in the United States with international standards of modern medical institution. With the commitment to become highland of medical technology and humanities, we provide cancer patients with high-quality services such as chemotherapy, targeted therapy, endocrine therapy and immunotherapy based on international diagnosis and treatment process, oriented with good medical experience and satisfaction for patients.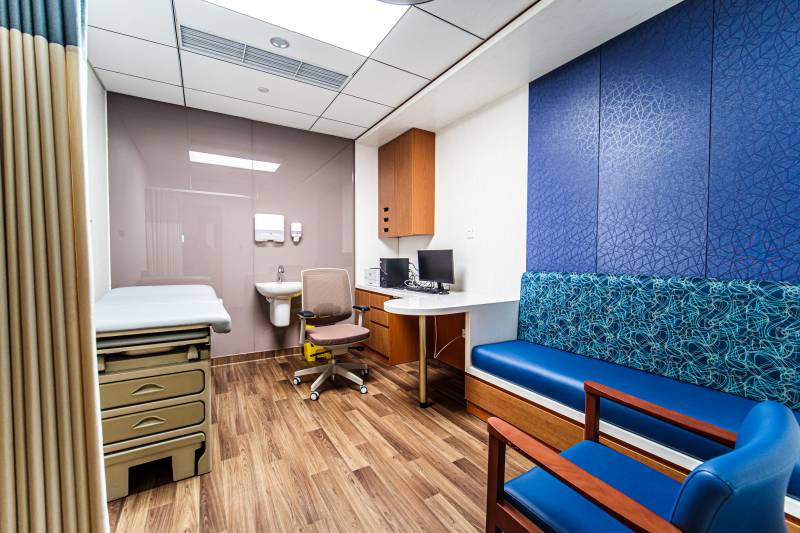 International professional talents
The Department of Medical Oncology (DMO) currently has 12 doctors, all of whom have master's degree or above: 1 doctor, 2 chief doctors, 1 deputy chief doctor, 3 attending doctors and 5 residents. All of them have working or training experience in major level 3 class A hospitals, having rich clinical experience, and leaders of DMO have overseas study and work experience. DMO has strong competence in scientific research, with all doctors obtained GCP certificate of drug clinical trial data specification, participated in several national programs, and projects funded by national and provincial natural science funds, domestic and international phase I-IV drug clinical trials, participated in the Roh fund RO1 project and FDA project, published SCI papers and several national core journals. All doctors have been trained in AHA cardiovascular emergency center of American Heart Association and obtained BLS certificate.
DMO has strong nursing team, with 8 oncology nurses for outpatient, of which 2 nurses with Senior title, 4 nurses with Junior title, 2 nurses, and 16 nurses for inpatient, of which 5 nurses with intermediate professional title and 11 nurses with primary professional title. Several nurses have working experience in hospitals abroad, participated in medical teaching and research exchange program in Dana Farber Cancer Center. Most nurses have been working in clinical front line of major level 3 class A hospitals in China for many years, and all of them have advanced training experience in Sun Yat sen University Cancer Center. All nurses received regular nursing training of international standard by nursing education experts from MD Anderson Cancer Center.
Advanced International Diagnosis and Treatment Service of Oncology
The Department of Medical Oncology (DMO) has specialties in breast cancer, lung cancer, digestive tract cancer and urinary tract reproductive system tumors, supported by nursing team with excellent medical skills and advanced operation system. Multidisciplinary experts from MD Anderson Cancer Center, Mayo Cancer Center and Sun Yat sen University Cancer Center provide strong technical support to create the most reasonable, advanced, cutting-edge and comfortable treatment and service experience for cancer patients in GCCC.
Diagnosis and treatment services cover all stages of common malignant tumors, early screening and diagnosis, preoperative neoadjuvant and postoperative adjuvant, chemotherapy, targeting, endocrine, immunotherapy for locally advanced and advanced metastatic cancer, consultation, guidance and follow-up in rehabilitation stage, and support treatment such as thrombus and cancer pain management, nutrition, psychology, music, intervention and symptomatic treatment of high-risk complications, to ensure optimal cancer management of patients and families.
Following the patient-oriented service principle, DMO offers multi-disciplinary consultation with domestic and international well-known experts, offline and online, for each patient, provide accurate and individualized diagnosis and treatment services, ensuring high-quality medical experience for patients.
The nursing team is skilled in providing PICC, infusion port (arm type infusion port, inguinal infusion port, subclavian infusion port), CVC deep vein, wound stoma professional nursing, professional treatment for lymphedema and other high-level specialized nursing. Staffing for nurses is in accordance with international hospital practice, to ensure sufficient nursing personnel for the fulfillment of customized and patient-oriented nursing service of VIP level.
Highland of Medical Technology and Humanities
The "appointment system" is implemented to solve the problem of time-consuming queuing for medical treatment. The "follow-up system" outside the hospital is implemented to solve the problems encountered by patients at home outside the hospital. The outpatient service adopt the mode of "one doctor for multiple rooms", in which doctors move for patients, while patients do not need to move from one room to another. Professional personnel provide guidance and accompanies the patient through the whole process. Consultation rooms are designed with separates spaces for protection of patients' privacy.
In the process of hospitalization, health nutritionists provide professional nutrition assessment and dining guidance for patients to ensure individualized nutrition matching. Individualized psychological counseling services are provided for patients, supplemented by music therapy, to alleviate the anxiety of patients. Ice caps are available to patients to reduce hair loss occurred in chemotherapy.
Hearing evaluations are provided to patients before and after chemotherapy and radiotherapy for conduction of preventive measures for the protection of patients' hearing. There will also be nerve support as adjuvant treatment to reduce numbness of hands and feet during chemotherapy. For female patients with fertility needs, ovarian protection measures will be implemented before chemotherapy, including drug and in vitro egg freezing technology in cooperation with the reproductive center.
Ward of DMO are built with Standardized cancer pain management system, with one-to-one guidance for cancer pain medication of the whole process, provided by professional pain assessor. According to the different emetic grade and tolerance of chemotherapy drugs, individualized antiemetic scheme would be selected, and the vomiting reaction of patients would be filed, recorded and filed for the whole process. Vomit-free ward is built for patients to make it easier to complete chemotherapy with pleasant experience, and less reluctance for chemotherapy. Our vision is to be the "Patients' most trusted partner in the fight against cancer".