The Endoscopy Center of GCCC has 10 medical staff, including 4 doctors and 6 nurses (1 deputy chief physician, 3 junior physicians, 1 charge nurse; 4 have postgraduate degrees).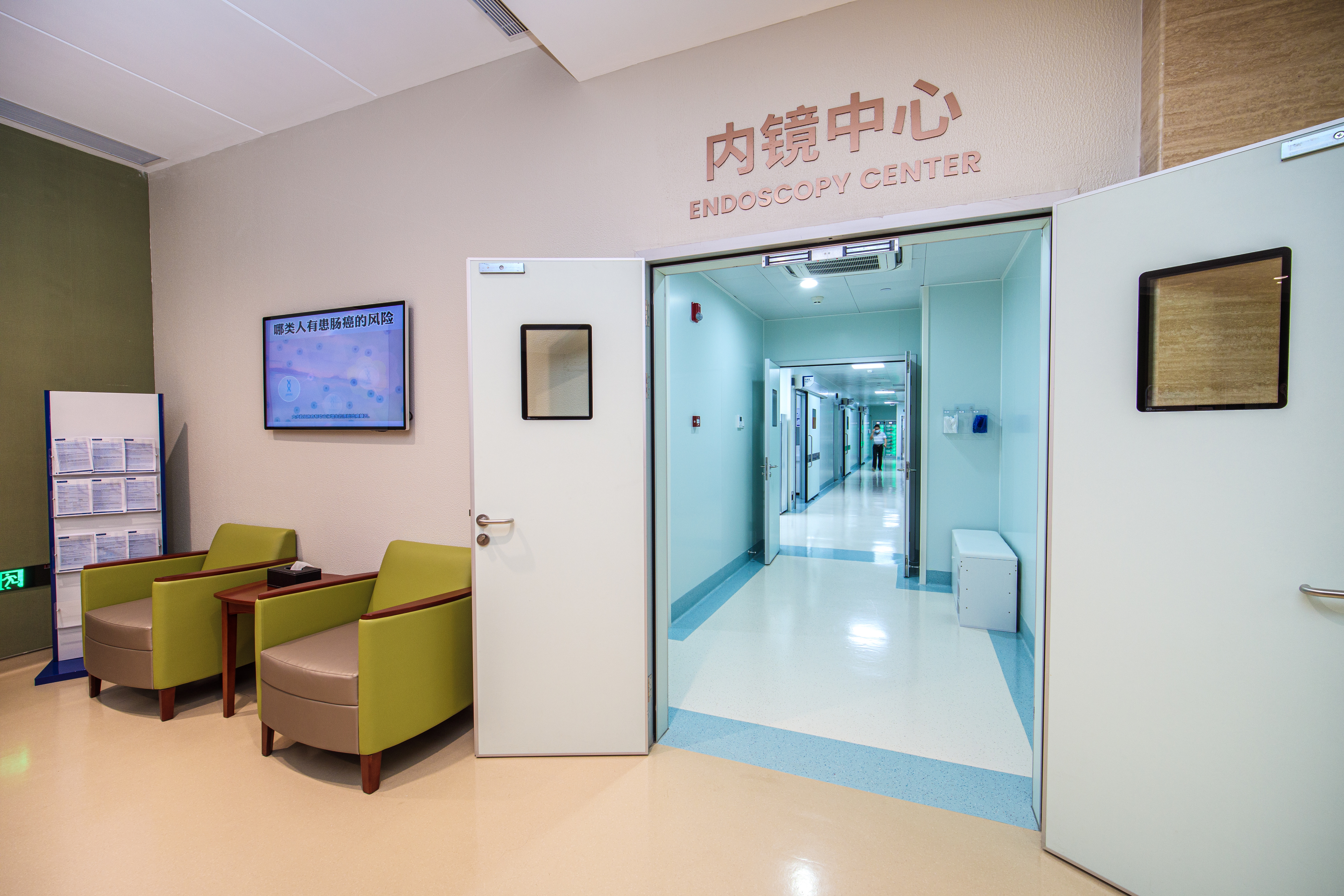 Advanced equipment:
The Endoscopy Center has state-of-the-art equipment such as the 290 ultra-high definition gastroscope and enteroscope (Olympus, Japan), the 290 gastroscope and enteroscope, the i7000 gastroscope (Pentax), in addition to many other gastroscopes and enteroscopes. The endoscopy cleaning and disinfection machine is fully automatic, produced by Medway in the United States. The whole disinfection process can be traced, ensuring complete disinfection and eliminating cross contamination.
Department diagnostic and treatment capabilities:
The Endoscopy Center can provide a wide variety of services. These include routine gastroscopy, enteroscopy and bronchoscopy with associated biopsy capability. In addition, advanced services include Endoscopic Mucosal Resection (EMR), upper gastrointestinal foreign body removal, upper gastrointestinal dilatation and stent placement, intestinal stent placement, and hemostasis control by endoscopic titanium clip placement. The department also provides ERCP and related treatment techniques (treatment of biliary and pancreatic duct stone, in addition to obstructive jaundice), endoscopic mucosal dissection (ESD), endoscopic ultrasonography (EUS) and endoscopic ultrasound-guided fine needle aspiration biopsy (EUS-FNA). Ultrasonic bronchoscopy (EBUS) and transbronchial needle aspiration biopsy (EBUS-TBNA) guided by a ultrasonic bronchoscope are used to evaluate the upper airways. Other procedures include naso-jejunal tube placement via endoscopy, trans-nasal catheter placement for intestinal obstruction, and percutaneous gastrostomy placement (for patients who cannot eat by mouth).
The Endoscopy Center has the 290 ultra-high definition gastroscope and enteroscope and the 290 gastroscope and enteroscope (Olympus, Japan). These instruments are very effective in the screening of patients for early cancer. Combined with ultra-high definition endoscopy, magnification, endoscopic electronic staining, NBA, and other technologies, the center can significantly improve the detection rate of early cancer, particularly in the stomach. Early gastric and intestinal tumors found by enteroscopy screening can be completely removed under endoscopic guidance to achieve the same effect as traditional surgery, thus preserving the physiological function of the stomach and intestine. In order to improve patient comfort during gastroscopy and enteroscopy, the Endoscopy Center offers painless gastroscopy services. After the procedure, the patient awakes with minimal discomfort. If gastrointestinal polyps are found during the examination, they can also be removed directly under endoscopy. Easy examination with early detection and treatment are the key to cancer prevention.