The Guangzhou Concord Cancer Center Laboratory is affiliated to the Pathology & Laboratory Department of Guangzhou Concord Cancer Center,with international professional management system and high-quality professional and technical personnel. The Laboratory currently has 11 employees, including 1 internationally registered senior laboratory technician, 4 intermediate technicians and 6 junior technicians, and is equipped with world-class modern inspection equipment. It has developed international advanced quality whole-process management system and SOP documents, which are in strict implementation.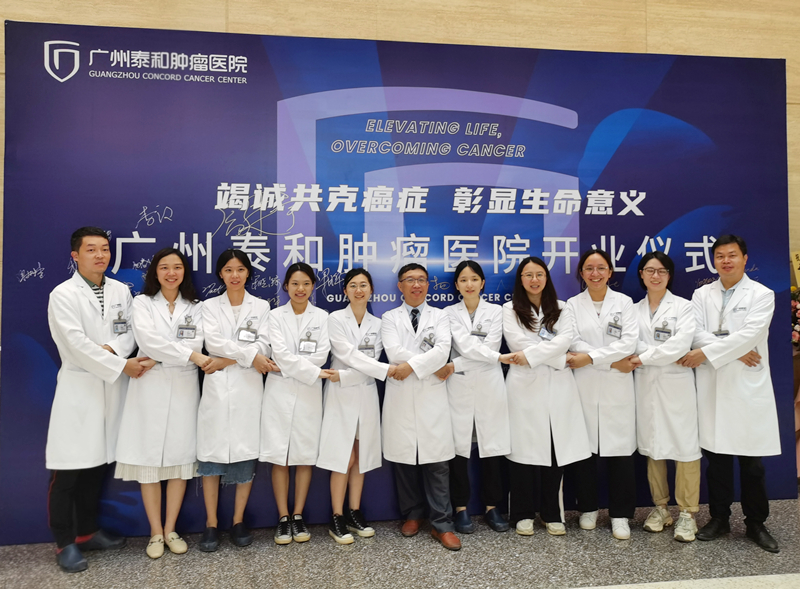 The Laboratory has four professional experimental groups: clinical basic test, clinical biochemical immunity (including HIV preliminary screening test), clinical microorganism (including EB virus test) and blood bank, and has carried out more than 180 test items, including biochemical routine test, rapid detection of infectious diseases, detection of tumor markers, thyroid function series, myocardial markers, blood gas analysis, urine routine test, stool routine test, and so on Blood routine, coagulation index, EB virus detection, bacteria identification, bacterial resistance monitoring, blood group identification, cross matching and other items.
The Laboratory has a number of international advanced testing instruments and equipment, namely Abbott ci16200 automatic biochemical and immune all-in-one machine, Abbott ci4100 automatic biochemical and immune all-in-one machine, Roche automatic immune analyzer Cobas e411 and Rando Abl9 blood gas analyzer ; E77 Labumat2 + Urised3 automatic urine analysis line, Stago Emo Express automatic coagulation analyzer, STAGO STA-R Max automatic coagulation analyzer, Hysenmekon XN-10 (B3 / B4) automatic hematology analyzer, YHLO VISION automatic dynamic erythrocyte sedimentation rate analysis system and KU-F10 automatic faecal analyzer; Merier VITEK2compact15 automatic identification / drug sensitivity instrument, Merier automatic bacterial culture system 3d120, Oumeng IF Sprinter indirect immunofluorescence sample and slide automatic operation instrument and Johnson & Johnson ORTHO VISION automatic blood group analyzer, etc.
The Laboratory is committed to meeting the needs of patients and clinical work, providing 24-hour emergency service; In order to improve the accuracy of test results, effectively shorten the reporting time of test results, and strive to provide accurate and fast test results for patients, the Laboratory implements international advanced, efficient and stable quality management system. The Laboratory also participates in External Quality Assessment ( EQA) and international laboratory quality comparison organized by the National Health Commission and Guangdong Center for Clinical Laboratory; At the same time, the Laboratory has prepared quality manual, procedure document, operation instruction and various registration forms for standardization of conduct for laboratory staff and ensure the accuracy and reliability of each report.
The Laboratory follows the "patient-centered" service principle, and provides accurate, timely, high-quality and efficient service for patients with first-class service and technology!