Registration process
Reservation methods
1、WeChat reservation: WeChat search, "GCCC0611"
2、Telephone reservation: 4008307338
3、On-site reservation: Outpatient hall front desk or registration self-service machine
Appointment Guide
1. On site reservation
Service hours: 8:30-17:00
2. Telephone reservation
△Reservation hotline: 4008307338 (working hours: 8:30-17:00).
△For telephone reservation, no online registration is required. User must provide the real name, the ID card number or other valid ID number, and valid cell phone number for appointment reservation.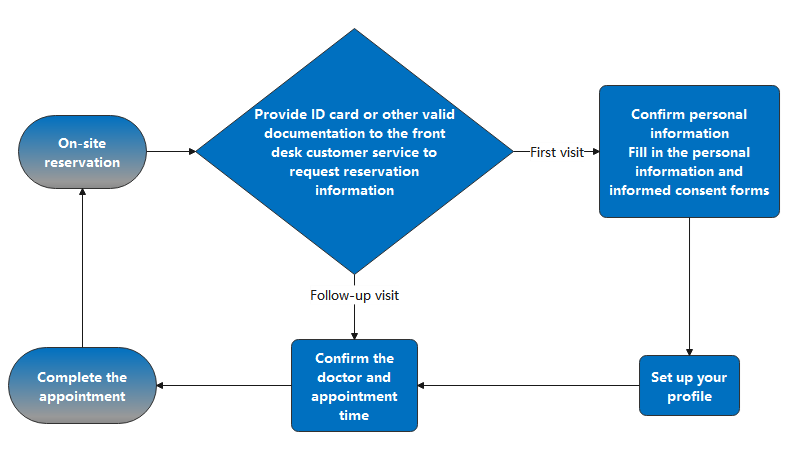 △Reservations available within 7 days by telephone.
△During peak hours of reservation registration, the system may notify you that the line is busy, please try again later. To save time, you may also register via WeChat.
△Once a telephone reservation is made, the system will send reservation confirmation to your registered mobile phone via SMS text. Please keep the reservation SMS text and show to the front desk when you arrive at the hospital on the day of appointment, along with your ID card or other valid identification.
△For appointment cancellation, you may call 4008307338 one day ahead of time (before 17:00).
3. WeChat reservation
WeChat reservation

Step1

Step2

Follow GCCC0611 in WeChat, select "See a doctor" - "appointment registration".

1. Already have GCCC registration card: fill in - > review

2. Need new GCCC registration card: register online - > fill in basic information

Step3

Step4

Select hospital and department

Select available doctor- > select appointment time

Step5

Step6

Confirm appointment > Pay now

Appointment Confirmed message
△For cancellation, you may call 4008307338 or by WeChat on day ahead of time (before 17:00). If you fail cancel one day ahead, on-site cancellation is available.
Making an appointment
1. Appointments need to be made with real name. The patient name, ID number and mobile phone number are required for appointment making.
2. For registration of patients from Hong Kong, Macao, Taiwan or foreign countries, valid identification/certificate must be provided such as pass for Hong Kong and Macao residents to and from the mainland, pass for Taiwan residents to and from the mainland, or a passport.
3. Registration availability: available 7 days in advance.
4. One ID allows one account for registration.
5. One mobile phone number allows one account for registration.
6. Check in: first-visit patient need to check in 30 minutes before the appointment; Follow-up patients check in 15 minutes before the appointment time.
7. Valid identification/certificate is required for check-in.
8. For normal clinic closure, the notice will be send to patient via SMS.
9. For emergent closure (closure on the same day), instead of SMS notice will be communicated by the hospital outpatient information department or customer service personnel.
10. If patient fails to check-in on time or cancel the appointment in advance, it will be regarded as breaking the appointment.
Payment
1. Payment policy: pay before leaving hospital
2. Payment methods: WeChat payment, Alipay payment, remittance, cash, bank card, payment at cashier, self-service payment (medical insurance, commercial insurance temporarily not supported).
一、 科室指南
Internal Medicine

Medical Oncology Outpatient

Surgical Oncology

Urological cancer Outpatient

Breast cancer Outpatient

Gastrointestinal cancer Outpatient

Gynecologic Oncology Outpatient

Radiation Oncology

Radiation Oncology Outpatient

Ancillary Services

Music Therapy

Psychological Therapy

Nutrition Consultation

Early Cancer Screening

Early Cancer Screening Outpatient

Nucleic Acid Testing

Nucleic Acid Testing Outpatient
Pandemic prevention and control measures
1. Before coming to the hospital, outpatients must first fill in an epidemiological questionnaire;
2. Patient and accompanying family member should wear masks correctly (masks with valves not allowed);
3. Before entering the hospital, all individuals need to show their Suikang health code, take body temperature, and provide epidemiological history.
4. In case of any of the following conditions, please go to the fever clinic. Concealing epidemiological history will result in legal consequences according to government regulations.
(1) Fever (T ≥ 37.3 ℃);
(2)Return to Guangzhou from overseas (including Hong Kong and Taiwan) and domestic medium and high-risk areas within 14 days, or have no nucleic acid test negative results within 7 days; (Note: areas defined as medium or high risk are subject to the announcement on epidemic classification by the government)
(3)The health code is yellow or red.
5. After registration, check-in at the service desk of the scheduled department for medical consultation. Except for patients in critical condition or disabled (difficulty with walking), one family member is allowed to accompany the patient. Accompanying a family member for medical consultation is discouraged. Only one patient and one doctor is allowed in one consulting room.
6. Keep minimum social distance of 1 meter in the hospital.