Painless HDR Brachytherapy with MRI Guidance
in the Treatment of Cervical Cancer
According to 2020 global cancer statistics, cervical cancer is the fourth most common malignant tumor in women. Its incidence shows a younger trend, which seriously threatens women's life and health. The treatments of cervical cancer includes surgery, radiotherapy, chemotherapy, often in a combined manner. Radiotherapy is a common treatment of cervical cancer. It is suitable for patients with various stages of cervical cancer, especially patients with stage IIB and above, but may also be used for earlier stages when patients are unable to tolerate surgical treatment. Curative radiotherapy techniques for cervical cancer includes pelvic external beam radiotherapy and intracavitary brachytherapy, both of which are essential. Pelvic external radiotherapy, often combined with cis-platinum chemotherapy, and brachytherapy can cure 50-70% of patients.
Brachytherapy, also known as afterloading brachytherapy, utilizes sealed radiation sources that are directly placed into the cavities of the human body (such as uterine cavity and vagina). They may also be directly inserted it into the tumor tissue, releasing high-dose radiation in the tumor target area to kill the tumor while protecting the surrounding organs. Brachytherapy treatments for cervical cancer are usually delivered 1-2 times a week to a dose of 6-7 Gy each time, for a total of 4-6 total sessions.
At present, when three-dimensional brachytherapy is performed in domestic cancer hospitals, many patients remain awake and receive intracavitary radiotherapy or implantable radiotherapy under CT guidance. The pain caused by uterine expansion, placement of treatment applicator, para-uterine implantation, needle adjustment, etc. may discourage patients from receiving the procedure. In addition, due to poor pain control during the procedure there is the possibility of displacement of applicator which can affect the treatment result. Now painless brachytherapy is widely used abroad and MRI simulation positioning is used to treat tumors more accurately. The GCCC Radiotherapy Department is equipped with professional anesthesia team, comfortable recovery room, and high-end MRI equipment which can provide painless brachytherapy under MRI guidance.
Features of Brachytherapy at GCCC
Painless and easy to complete
In the process of placing the brachytherapy applicator, patients are prone to discomfort such as tension, muscle contraction and severe pain, making it difficult to complete the procedure. GCCC follows international, patient-oriented treatment principles. The radiotherapy center is equipped with professional anesthesia team and a comfortable recovery room. Before the procedure, a short-acting anesthetic will be given intravenously to help patients quickly be sedated and sleep. The three-dimensional brachytherapy procedure can then proceed without pain while the anesthesiologist monitors the whole process. While ensuring the treatment effect, it can effectively reduce the pain and psychological burden of patients.
Targeted and precise
At present, some domestic hospitals still use two-dimensional brachytherapy treatment techniques. This has some disadvantages such as insufficient target treatment and excessive dose to adjacent normal tissues which can lead to side effects or tumor recurrence. GCCC utilizes the advanced Varian high dose-rate (HDR) brachytherapy machine (Fig. 1) and magnetic resonance (MRI) image guidance to define the tumor target area and devise a computerized treatment plan. Compared with the traditional CT image guidance, MRI can provide higher soft tissue resolution and better distinguish tumor from normal tissue (Fig. 2). This makes the target dose more accurate and customized which improves the local control rate of the tumor. It improves quality of life by reducing injury to the surrounding tissues such as bladder and rectum, which causes cystitis and proctitis, respectively.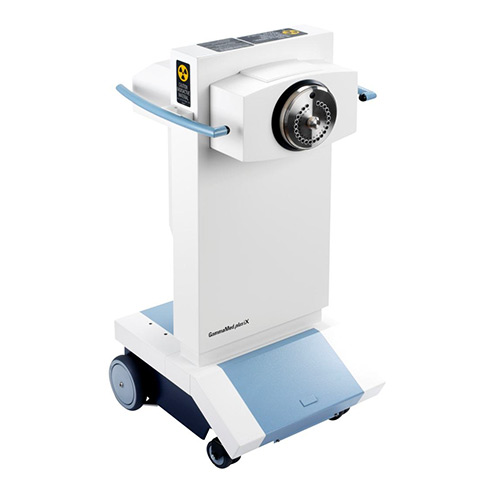 Figure 1 Varian HDR brachytherapy treatment unit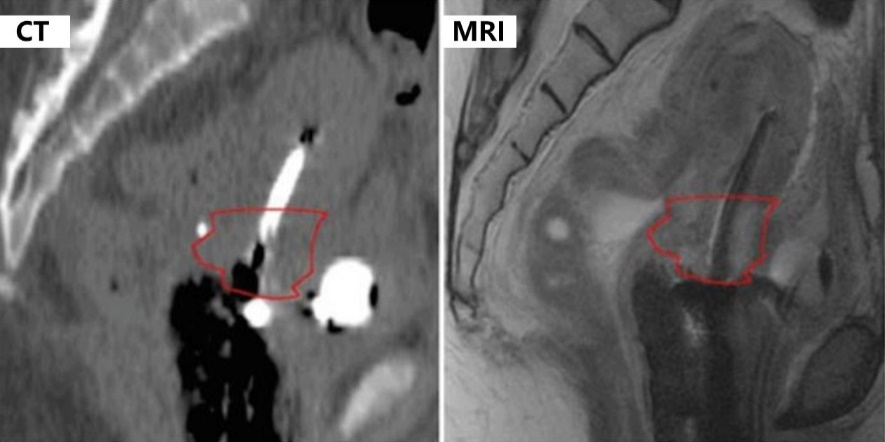 Figure 2. Comparison of CT and MRI images of patient with cervical cancer treated with HDR brachytherapy