On 6 on 29 in 2020, the National Cancer Center announced the results of the approval of the 2019 radiotherapy quality control guidelines.
Professor Fu Shen, a member of the Academic Committee of the Proton Center of the Anderson Cancer Center in the United States, and the chief radiotherapy expert of Taihecheng Holdings Meizhongjiahe Medical Group and the chief physicist of Taihecheng Holdings Meizhongjiahe Medical Group and Guangzhou Taihe Cancer Hospital The project "Practical Guide for Whole Body Irradiation Technology" hosted by Professor Li Zuofeng, after fierce competition, was finally approved.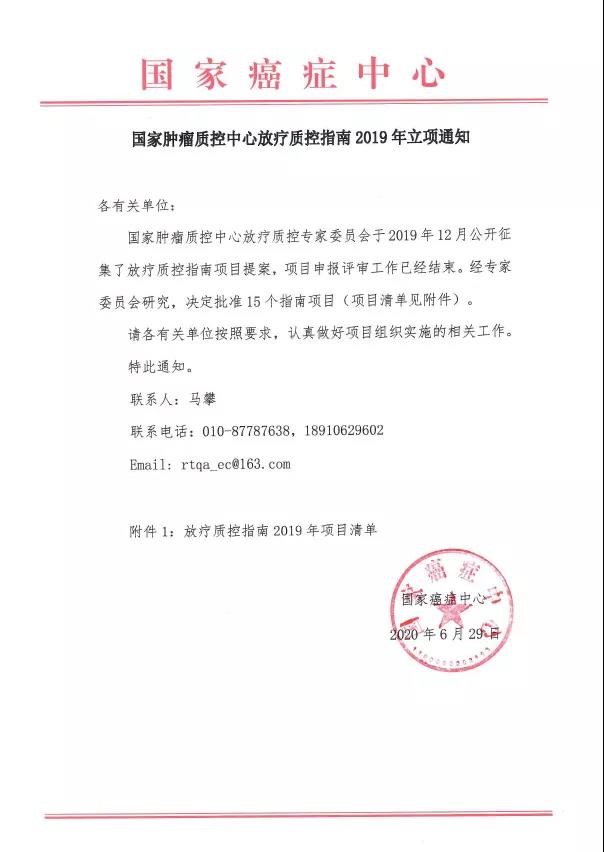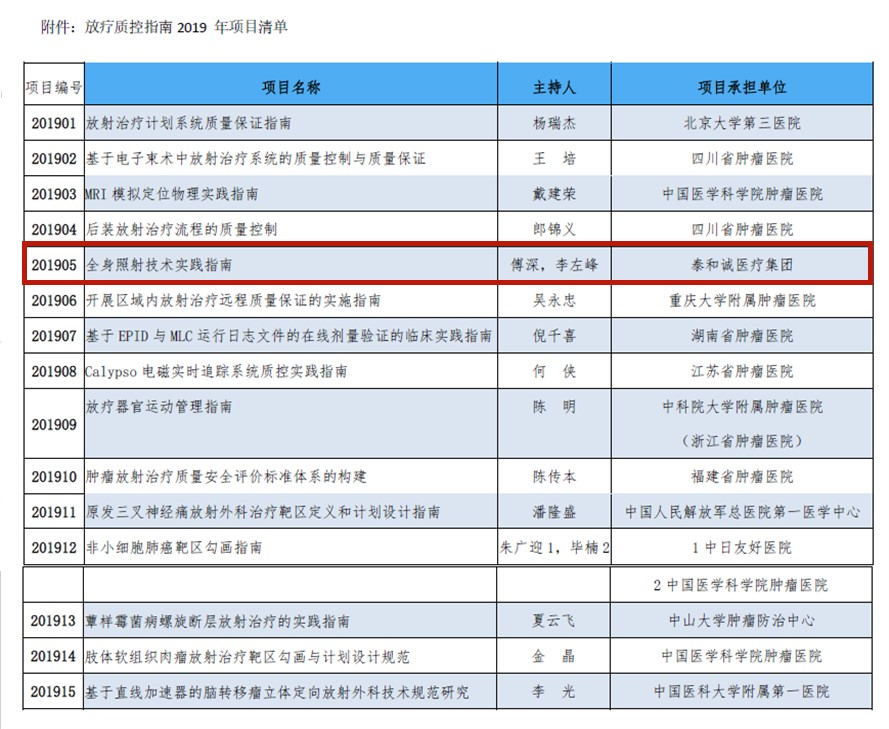 Whole body irradiation (Total Body Irradiation, TBI) is different from conventional X line irradiation, and is part of a myeloablative pretreatment program to eradicate malignant cells. As an effective myeloablative treatment, it does not depend on blood supply, nor is it affected by changes in drug absorption, metabolism, biodistribution or hemodynamics.
For patients undergoing hematopoietic stem cell transplantation and bone marrow transplantation, whole body irradiation acts as a "preparation agent". It has the advantages of fast marrow clearing, obvious pretreatment effect, and effective killing of tumor cells in areas that are not easily reached by drugs. Help improve the success rate of patient transplantation.
Prior to this, there is no TBI practice guide in China. Therefore, the "Practical Guidelines for Whole Body Irradiation Technology" hosted by the team of Professor Fu Shen and Professor Li Zuofeng has important clinical application value for the rational application of TBI technology, guidance of clinical practice, and improvement of the level of practice in domestic radiotherapy institutions. . In addition, the guidelines also provide clinical guidance for domestic radiotherapy institutions that plan to develop and have implemented TBI technology, including the required facilities and equipment, personnel training qualifications, clinical process evaluation, quality control practice standards, etc. Content.
Since 2018 , the National Cancer Center for Quality Control has been soliciting radiotherapy quality control guidelines from authoritative experts and top medical institutions across the country. Professor Fu Shen and Professor Li Zuofeng are responsible for taking the lead in completing the "Whole Body Irradiation Technology Practice Guide" project, which is of great clinical significance and will have a profound impact on the development of my country's radiotherapy industry. All colleagues of Guangzhou Taihe Cancer Hospital are also deeply honored for this. The leadership of the hospital has stated that they will go all out to support Professor Fu and Professor Li in carrying out this major project that benefits the country and the people.
Congratulations again to Professor Fu Shen, Professor Li Zuofeng and their team!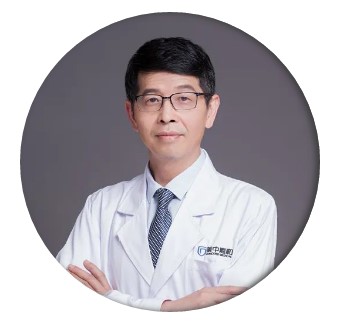 Professor Fu Shen
Doctor of Radiation Oncology. He is currently a member of the academic committee of the Proton Center of the United States MD Anderson Cancer Center, deputy director of the Key Laboratory Center of the Ministry of Education for Nuclear Physics and Ion Beam Applications, Fudan University, the chief scientist of the key R&D project of the Ministry of Science and Technology, and the Chinese Cancer Society (< span>CSCO) and many other national committee members. 1993 After graduating from Fudan University Affiliated Tumor Hospital in 1993, he worked at MD Anderson Cancer Center, Johns Hopkins University Hospital Tumor Center, and Fox Chase < /span>Working and studying in Cancer Hospital for many years. Clinical work 30 For more than 30 years, he has focused on radiological diagnosis and treatment and comprehensive diagnosis and treatment of tumors. He has rich clinical experience and clinical application experience of cutting-edge radiotherapy technologies, especially good at new technologies such as proton heavy ions.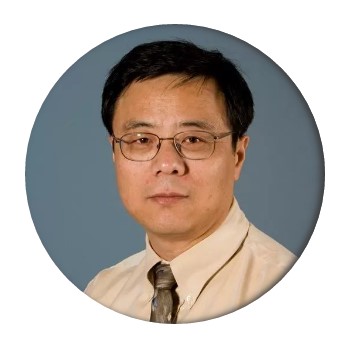 Professor Li Zuofeng
In 1989, he graduated from Washington University in St. Louis, USA, majoring in system science and mathematics, with a Ph. 2005 In 2005, he was hired as a professor, clinical physics director and chief physicist of the Proton Center of the University of Florida.
Professor Li Zuofeng is a medical physicist authorized by the National Energy Administration. He is currently a member of the (PTCOG) steering committee of the International Society of Particle Therapy, and has participated in the formulation of multiple American Medical Physics Association radiotherapy regulations.
As one of the world's top experts in the field of oncology radiation therapy, Professor Li Zuofeng presided over two research projects of the National Cancer Institute of the United States; published more than 130 international professional papers Article, is a number of international authoritative academic journals editing experts, including: "InternationalJournal of Radiation Oncology Biology Physics"; "International Journal of Particle Therapy "; "MedicalPhysics" etc.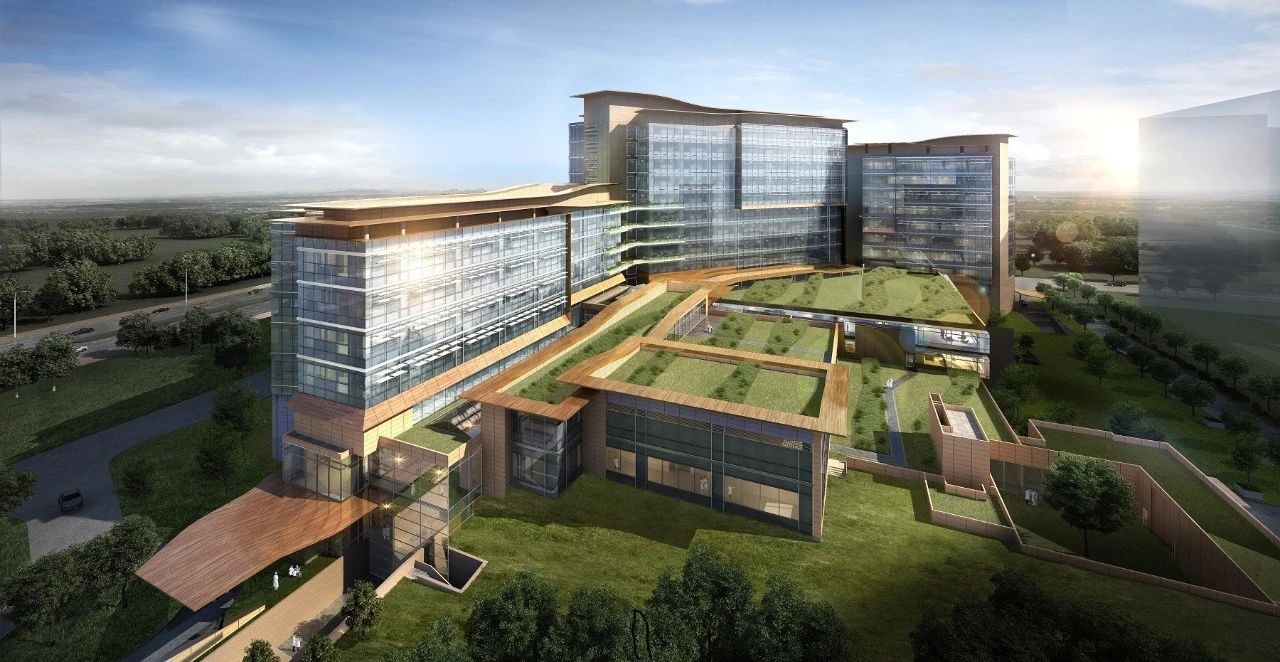 Guangzhou Taihe Cancer Hospital was built by Taihecheng Holdings with the domestic Meizhong Jiahe Group as the operating platform, in cooperation with Sun Yat-sen University Cancer Center, and under the support and guidance of the University of Texas MD Anderson Cancer Center. A tertiary cancer specialist hospital featuring proton therapy. The hospital is located in Sino-Singapore Guangzhou Knowledge City, Huangpu District Development Zone, Guangzhou. It covers an area of 50 acres, a building area of 10 million square meters, and a planned number of beds 400 Zhang is the first batch of key supporting high-tech service medical projects launched by Knowledge City. As one of the core projects of the life and health sector of the development zone, Guangzhou Taihe adheres to the concept of "providing high-quality diagnosis and treatment services for Chinese cancer patients", and will walk with patients to conquer cancer.
The first phase of the hospital has a construction area of 4 ten thousand square meters, with 66 open beds. The construction of the project started in 2017 in February , and it is expected to be fully operational in 2020 .